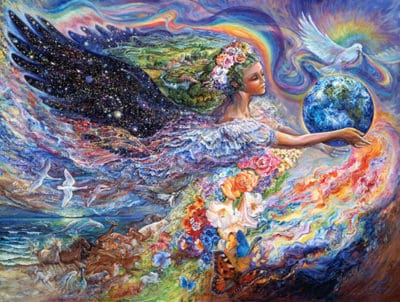 Shamanic Illumination and Activation
Tuesday, Oct 6, 6pm Pacific Time
Topic: Creativity Activation- This shamanic healing is designed to strengthen and revitalize your connection to your creativity.  This supports you in engaging your resourcefulness when facing life's challenges and seeing additional options for navigating life.
In addition, creativity is a vital part of us that is marginalized in mainstream culture.  When we don't engage with it in a healthy way, it tends to be in service to our shadow aspects, like coming up with imaginative stories about bad things that could befall us.
This work is an energetic intervention to support your relationship to this part of you.  It will also include messages from the guides about how to tend, enjoy, and activate this part of yourself.
If your PayPal email is different than your personal email, please send me a note with your personal email so I can send the .mp3 to the correct address.
October Healing- $5
October – December monthly healings- $15

Are you committed to receiving this healing each month?
If so, consider signing up via Patreon: https://www.patreon.com/practicalshamanism For the same $5/month, you'll get the healing each month, plus additional shamanic content and support.
In this healing, I will work with the guides to facilitate the gentle release and movement of dense energies that might be feeling stuck. In addition, I will be working with the guides to infuse energy and light and whatever support is ideal for you. The Star Beings are all lined up to add in the Shimmer Energies.
I'd love to help you release and dismantle old energetic structures, pain from the past, and old vows that don't serve- like vows of poverty. This journey can provide energetic illumination and help your body have the most up-to-date blueprint for health and vitality. I'll be working with my guides and each person's guides to align the energy in the way that's supportive for each individual. The guides prepare an individual energetic download for each person who participates.
You're invited to tune in but it's not required. If you wish to tune in, consider lighting a candle and coming into stillness for 15 to 20 minutes to receive the healing. This is a great time to talk to your guides about any specific healing requests you may have. If it isn't in alignment to tune in at the time of the work, spend a few moments any time before the healing setting intent to receive and making any specific requests of the guides.
Afterwards, I'll create an .mp3 that you can listen to that describes the specific work of the healing journey. Below is an example of the .mp3 from the free healing on August 14, 2014. You may notice my voice sounds a bit altered. I was still very connected to the energy of the eternal when I recorded this right after the healing.
Click on the link below and the file will load in a separate window or you can right click to save it to your computer.
Here are some tips for working with this kind of healing.
For those who enjoy more info here are some FAQ:
Does it really work at a distance?
Indeed. I do more than half my work over the phone and I get great results and feedback.
Couldn't I just ask my guides for healing?
Absolutely! Please do! What I bring to the table is the ability to more deeply and fully anchor that intention and to create a stronger pathway for the healing energy to move from spirit to you. While I'm not good at a number of endeavors (like getting things like tents into their original packaging or athletic team sports), I'm very good at directing large amounts of energy with my intention. There are so many guides ready and available to help with healing and my work helps to create a strong and dynamic bridge between those helpers and you.
I started feeling the results as soon as I signed up, is that normal?
Often my clients report feeling relief and positive shifts as soon as they book a session with me. This happens because in booking a session, they've set intent to receive healing and in adding the session into my calendar, I've set intent to support them in that. While people generally see the most intense and focused change during the time of the session, our mutual intent for their healing often allows the guides to begin work immediately.
I didn't feel much, how do I know it made a different?
If you don't feel very much in the moment, I invite you to pay attention to whether you are more effective, confident, and empowered in your life following this kind of work. Are you seeing change in the areas you requested healing?
I find that how much my clients feel relates to energetic sensitivity (which has its downsides) and the ability to come into stillness and feel the subtle. I love when people feel good during and after a shamanic healing, but that's not my primary intent. If you come into stillness and tune in during the healing, you're likely to directly feel more and it can help you awaken your ability to feel/sense energy. If you choose to listen to the .mp3 afterwards, you'll have a detailed map to direct you to where changes might take place in your being and in life. The shamanic work I do impacts the soul level and the energy body; some people are more able to sense those layers directly. However, I don't find that the ability to feel the movement impacts the effectiveness of the work.
Anything else I should be aware of about this work?
Yes. Shamanism can be called the "Path of Lightning" because it can create such a fast, powerful change. My work is about creating a direct energetic intervention at the soul level to quickly and powerfully bring the soul into greater health and vitality. Coolest thing EVER! And, this can result in a lot of rapid movement and change, especially if it's supported with other practices that allow mind, body and heart to be flexible and open to healing changes. The soul provides a blueprint so when we release pain and stuck energy at this level, it causes reorganization on the levels of the physical, mental, and emotional, as well as in external life circumstances. I always intend my work to be gentle and kind, but it often runs very deep and so the movement created from healing can be uncomfortable.
How can I support myself after receiving shamanic healing?
Check out the video above on Vibrant Self Care Along the Healing Journey.