Practical Shamanism:
A Guide for Walking in Both Worlds
by Katie Weatherup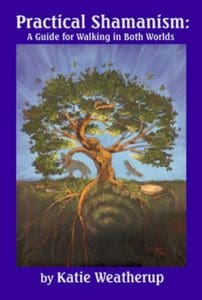 There are worlds of healing, protection, and insight available to you just beyond ordinary reality. The knowledge to simply, powerfully journey to these worlds, to connect with your spirit guides, to build a vision of yourself as healthy, intuitive and psychically alive, is within this book. Whether you are just beginning to seek a truer and more meaningful existence, or you are an experienced traveler of worlds, this book provides a reliable, straightforward, friendly and practical guide to basic shamanic practices, including more advanced instruction in past life healing, shadow work, and soul retrieval.
Click here to read a PDF of the book's Table of Contents and Introduction.
Available in San Diego at: Tree of Life Store 4870 Santa Monica Ave. San Diego, California 92107, 619-223-3970
Available at Amazon, Barnes and Noble, and other online stores. If you want to buy through Amazon, please use the following link. They will pay me a higher percentage.
Buy Practical Shamanism, A Guide for Walking in Both Worlds at Amazon
Praise for Practical Shamanism: A Guide for Walking in Both Worlds
NOW AVAILABLE
Practical Shamanism: A Guide for Walking in Both Worlds
Only $14.95*
Purchase it now and I'll e-mail you a link to get my Shamanic Drumming MP3s for FREE (a $14.95 value)!
* plus $4 S&H, CA residents add 7.75%
Our experience on this Earth can be difficult, to say the least. A spirit having a human experience is not easy, nor is it intended to be. This book holds the key to building the bridge between the spirit and the human. Katie takes Shamanism to new levels with her practical and simple approach. This book explains new view and uses time-honored traditions in Shamanism.
Steve Rother
Practical Shamanism is an extraordinary tool for growth and self-actualization. It applies the wisdom of traditional, shamanic cultures to a busy, modern lifestyle.
Michael J. Majeski, M.Ed Psy.D.
Sex, Shamanism, and Healing
My Kissing Quest
You are invited.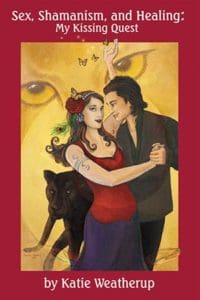 This book is a kiss and tell. It tells stories of fun, juicy sexual experiences, long, sweet kisses, whispered words and touches in the dark, all offering the reader delicious vicarious experiences. It is also a roadmap to healing for survivors of sexual trauma. It offers new pathways, hope, and wisdom to make that journey swifter, more pleasurable and more complete than following only the more conventional routes to healing.
This book is a guide to women's empowerment, to finding, embracing and actualizing the feminine divine within. It's a journey to finding and joyfully claiming your power, complete with detailed exercises and instructions.
This book speaks to healing between men and women. It offers ways to mend the gap between the sexes and open to a balance in which both are empowered, honored and whole. This book is an invitation. Come and play.
Only $14.95 plus $4 S&H. Shipping to US mailing addresses only. CA residents add 7.75% sales tax.
Sacred Travel
Practical Shamanism for Your Vacations and Vision Quests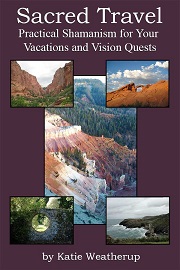 My new ebook, Sacred Travel: Practical Shamanism for Your Vacations and Vision Quests has been released. It is available at Amazon.com. It will shortly be available at Barnes and Noble, iTunes, and other ebook sellers.
Are you an energetically sensitive or spiritually-inclined person? If you answered "yes", then this guide can make the difference between an exhausting marathon and a dream vacation.
Imagine yourself hiking to the Sun Gate at Machu Picchu, greeting the dawn from the center of Stonehenge, or standing a foot away from the lava flow in Hawaii. An understanding of shamanic practices can make these experiences so much richer. Learn how to find the unmarked places along the road, where deep healing, wisdom, and gifts are offered.
This book offers suggestions and practical advice for those new to the concept of sacred travel as well as ways for those with experience to expand their skills.
Connect more deeply to the land while traveling or at home.
Meet the guardians of the land and invite their protection.
Deepen your energetic perception and discernment.
Experience the essence of the land more profoundly when you travel.
What tools do you need in your shamanic travel kit? How do you set up protections to promote a good night's sleep? You'll find answers to these questions and more here. Shamanism can be called the Path of Lightning. Here is an invitation to dance with the energy of places you visit for deep healing, activation, and transformation. May you enjoy the journey!
This book is over 22,000 words or approximately 100 pages.